Electronic scale
Now you can weigh, measure and capture data at the same time

The SC-2500 and SC-5000
The unique feature of the SC-2500 and SC-5000 lies in the fact that they can weigh, measure size and capture data at the same time.
The scales were designed to answer in the needs of various fields, including:

Maturity indexing
Quality assurance for retailers
Producers who need to do pre-planning
Features

The SC-2500 and SC5000 electronic fruit mass scales are custom-made to handle a wide variety of fruit.
They can be linked to any computer with Windows '95, '98, NT or 2000.
User-friendly, specially designed software is supplied with the system to record and display the data.
The data can be:

saved to file
updated to database

The software program is able to compile the results of all (or selected) previous data - weight or size.
With the EFM connected, the scale can measure the weight and size (diameter) of the fruit. This feature is optional according to need.
The measurement results are displayed on a LCD screen.
Scale & EFM

The scale connects to a computer to download the mass and size measurements.

To run the software . . .

you need a computer with at least:
Windows 95/98 or Windows NT4.0 / Windows 2000.
Serial Port.
SVGA display.
8MB System RAM or more.
CPU 486DX or higher.
Example of software program: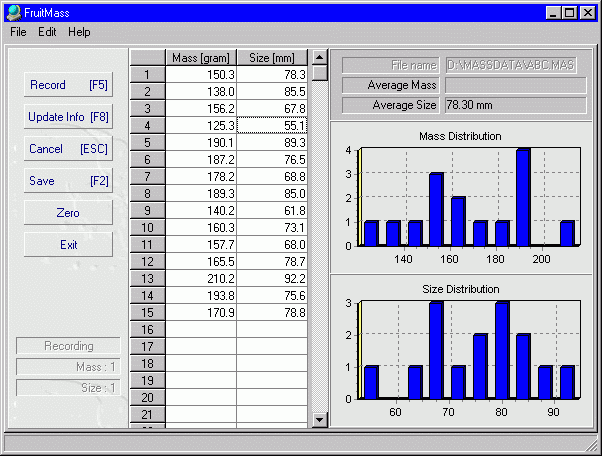 | | | |
| --- | --- | --- |
| | SC-2500 | SC-5000 |
| Operating range | 0 gram ~ 2 500 gram | 0 gram ~ 5 000 gram |
| Accuracy | ± 0.2 gram | ± 0.5 gram |
| Maximum fruit size | 120 mm | 120 mm |
| Mass | 3 kg (approx.) | 3.5 kg (approx.) |
| EFM port (size measure) | YES | YES |
| Supply voltage | 110 VAC or 230 VAC | 110 VAC or 230 VAC |
[ Home] [ Top ]